Ciao a tutti! Oggi vi parlo del mio ultimo lavoro, un album per Prima Comunione molto particolare.
Si tratta di un album particolare, perché è costituito da un raccoglitore esterno, che contiene degli elementi interni in cui è possibile conservare alcuni ricordi sotto forma di quadretto di foto e di busta con biglietto all'interno. Al centro della struttura ho posizionato una ulteriore scatola, nella quale si troverà il vero e proprio album di foto.
Hello everyone! Today I'm going to tell you about my latest work, a very special First Communion album. This is a particular album, because it consists of an external binder, which contains internal elements in which you can keep some memories in the form of a picture frame and envelope with ticket inside. At the center of the structure I placed an additional box, in which you will find the real photo album.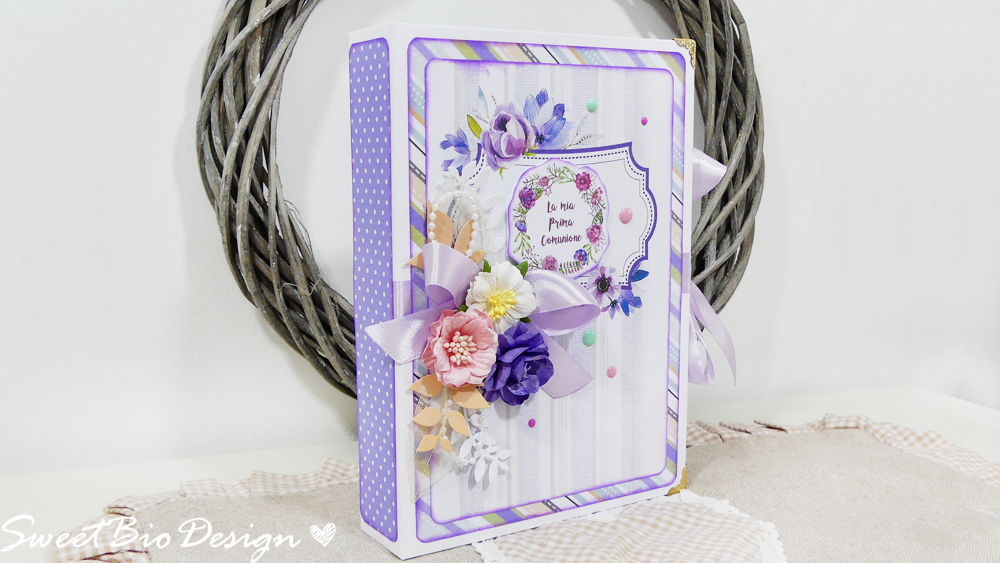 Per realizzare questo album sono state necessarie diverse ore di lavoro, che ho riassunto in Due Mini corsi, che trovate più in basso. Mentre qua sotto metto a disposizione il File con le Misure dettagliate per realizzare questo progetto, che potete scaricare facendo clic sul pulsante Download:
To make this album it took several hours of work, which I summarized in Two Mini courses, which you find further down. While here below I provide the file with detailed measures to carry out this project, which you can download by clicking the Download button:
Ed ecco la prima e la seconda parte del Mini Corso, che potete seguire per realizzare l'album, con tutto il processo di creazione e di decorazione:
And here is the first and second part of the Mini Course, which you can follow to make the album, with the whole process of creation and decoration:
Come sempre nelle info del video ho lasciato la lista dei materiali che ho utilizzato, comprese le carte che esistono anche in versione Bimbo, mentre io ho usato quelle per Bimba. Metto tutto anche qua sotto, così che possiate avere tutto a disposizione:
As always in the video info I left the list of materials that I used, including the cards that exist in the Bimbo version, while I used those for Bimba. I put everything here too, so you can have everything available:
MATERIALE UTILIZZATO
– CARTA Comunione BIMBA (paper set): https://amzn.to/2Itf9ZZ
– CARTA Comunione BIMBO (paper set boy): https://amzn.to/2wVwjdc
– Cartone pressato per la base (chipboard): https://amzn.to/2LmBoOL
– Cartoncino bianco 50×70 (cardstock): https://amzn.to/2Iuv6yK
– Acetato (acetate): https://amzn.to/2IRtheA
– Biadesivo 6mm (tape): https://amzn.to/2kaCX6a
– Cartone pressato (chipboard): https://amzn.to/2HixAM6
– Pieghetta (bone folder): https://amzn.to/2Hib4mB
– Bulino (dotter): https://amzn.to/2K4daZa
– Tappetino da taglio (cutting mat): https://amzn.to/2qPBSEE
– Taglierino professionale (cutter): https://amzn.to/2Hk6xA0
– Colla stick (glue): https://amzn.to/2qSi96b
– Colla vinilica (tacky glue): https://amzn.to/2HmARKi
– Tavola per le pieghe (scoring board): https://amzn.to/2HhObDQ
– Nastro biadesivo (double sided tape): https://amzn.to/2qVJZ1J
– Calamite (magnets): https://amzn.to/2HVtN8v
– Colla per calamite (magnets glue): https://amzn.to/2rU5rVk
– Forbici precisione (scissors): https://amzn.to/2HMopXL
– Mini clip: https://amzn.to/2HqRg0e
– Arrotonda angoli (corner chomper): https://amzn.to/2Jo7qZb
– Tavola per le pieghe (scoring board): https://goo.gl/5DMrHe
– Nastro in Raso (ribbon): https://amzn.to/2GF33Hl
– Inchiostro Distress Oxide Wilted Violet: https://amzn.to/2s4BdPv
– Tavola Etichette (TAB punch board): https://amzn.to/2IEJq3Z
– Penna micro glitter: https://amzn.to/2GDXEjG
– Rilegatrice Bind It All: https://amzn.to/2rYcQU6
– Pistola a caldo (hot glue): https://amzn.to/2GGAtVM
– Acrilico Bianco (acrylic paint): https://amzn.to/2IDV4A8
– Proteggi Angoli dorati (corner protectors): https://amzn.to/2GGBxZM
– Enamel Dots: https://amzn.to/2KK5ta9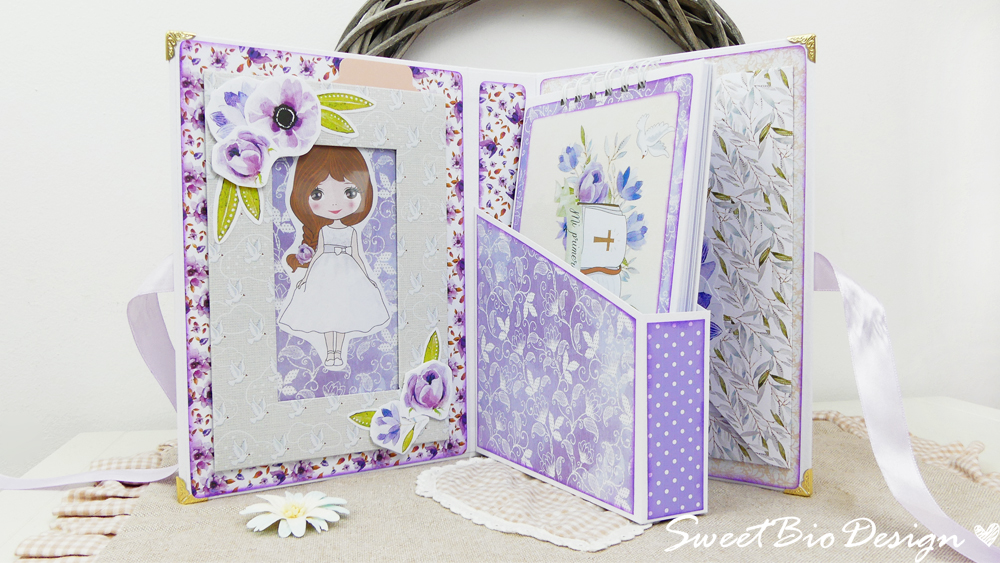 Se anche voi realizzerete questo progetto, mi raccomando fatemi sapere! Sono sempre molto felice di vedere i vostri lavori. Intanto se qualcuno volesse acquistare questo album già pronto, ecco che potete farlo sul mio shop QUA:
If you also realize this project, I recommend to let me know! I am always very happy to see your work. If you want to buy it, you can from HERE:
Se vi piacciono gli Album, e la formula dei mini corsi, che permette di creare tutto in maniera facile, comprensibile e con tutti i materiali e le misure a disposizione, allora non perdete questi altri mini corsi:
If you like Albums, and the formula of mini courses, which allows you to create everything in an easy, understandable way and with all the materials and measures available, then do not miss these other mini courses:
MINI ALBUM MY LOVE
EXPLOSION BOX A PIU' LIVELLI