Ciao a tutti! Eccoci con un tutorial sulla pasta polimerica davvero di tendenza: l'effetto galaxy!
Con questi cuori ho realizzato dei ciondoli, ma ovviamente variando le dimensioni, potevano essere anche degli orecchini, delle spille, ecc.
Hello everyone! Here we are with a tutorial on polymer clay really trendy: the galaxy effect! With these hearts I made some pendants, but obviously varying the size, they could also be earrings, pins, etc.
La modellazione richiesta è davvero minima, inoltre si possono utilizzare degli scarti di pasta. Dopo aver fatto il cuore, grazie a dei pastelli ridotti in polvere, si potrà colorare.
The modeling required is really minimal, moreover you can use pasta scraps. After making the heart, thanks to the pastels reduced to powder, you can color.
***MATERIALE UTILIZZATO***
– Pasta FIMO: http://amzn.to/2owbccE
– Gessetti colorati: http://amzn.to/2q7Dg6q
– Acrilici: http://amzn.to/2pzcSlR
– Lucidante: http://amzn.to/2q5vXJC
– Cordoncino nero: http://amzn.to/2oJg9dG
– Gancetti: http://amzn.to/2oJqgPF
– Glitter: http://amzn.to/2pzpmKg
– Dotter: http://amzn.to/2q5CCDr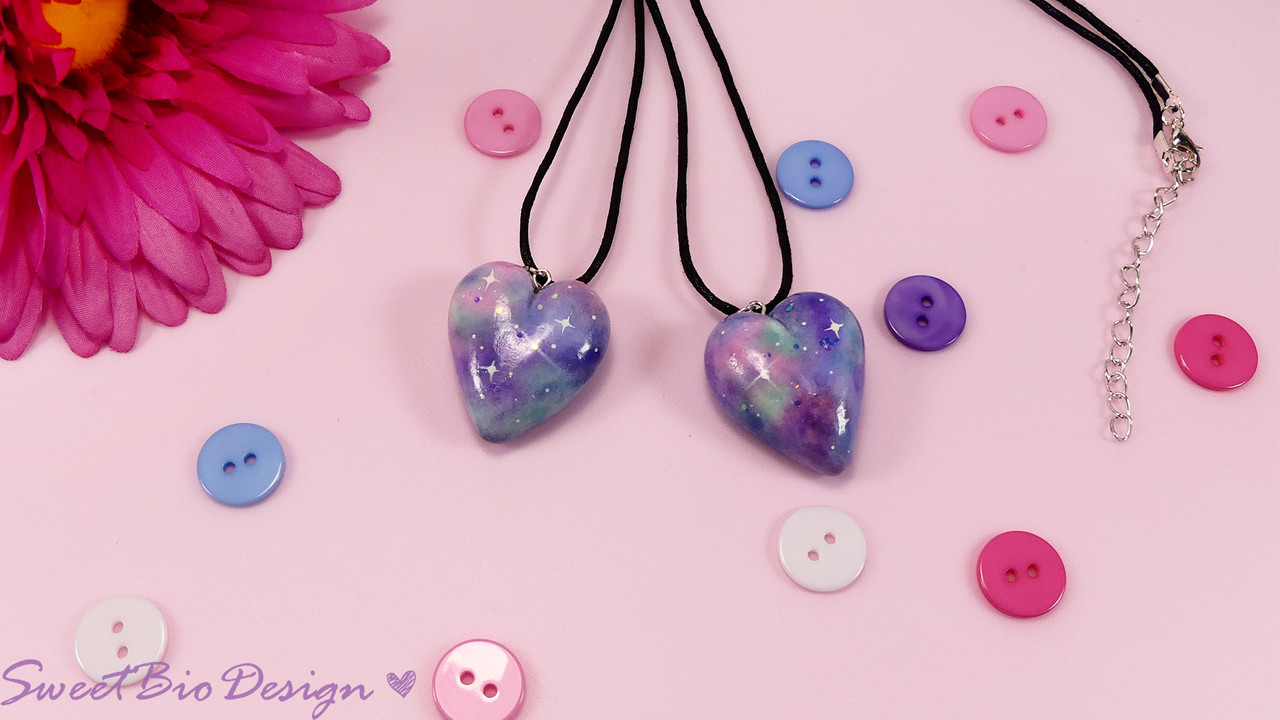 Per aggiungere luce alla galassia, ovviamente possiamo creare delle stelle. Lo facciamo con un colore acrilico e un dotter. Inoltre, dopo aver messo un lucido protettivo, possiamo anche aggiungere qualche glitter.
To add light to the galaxy, we can obviously create stars. We do it with an acrylic color and a dotter. Also, after putting a protective polish, we can also add some glitter.