Ciao a tutti! Oggi vi mostro un progetto recente che mi sono davvero divertita a realizzare, un ricettario che doveva 
avere i toni del lilla, viola e arancio chiaro.
Hello everyone! Today I show you a recent project that I really enjoyed creating: a Recipes box that was to have shades of lilac, violet and light orange.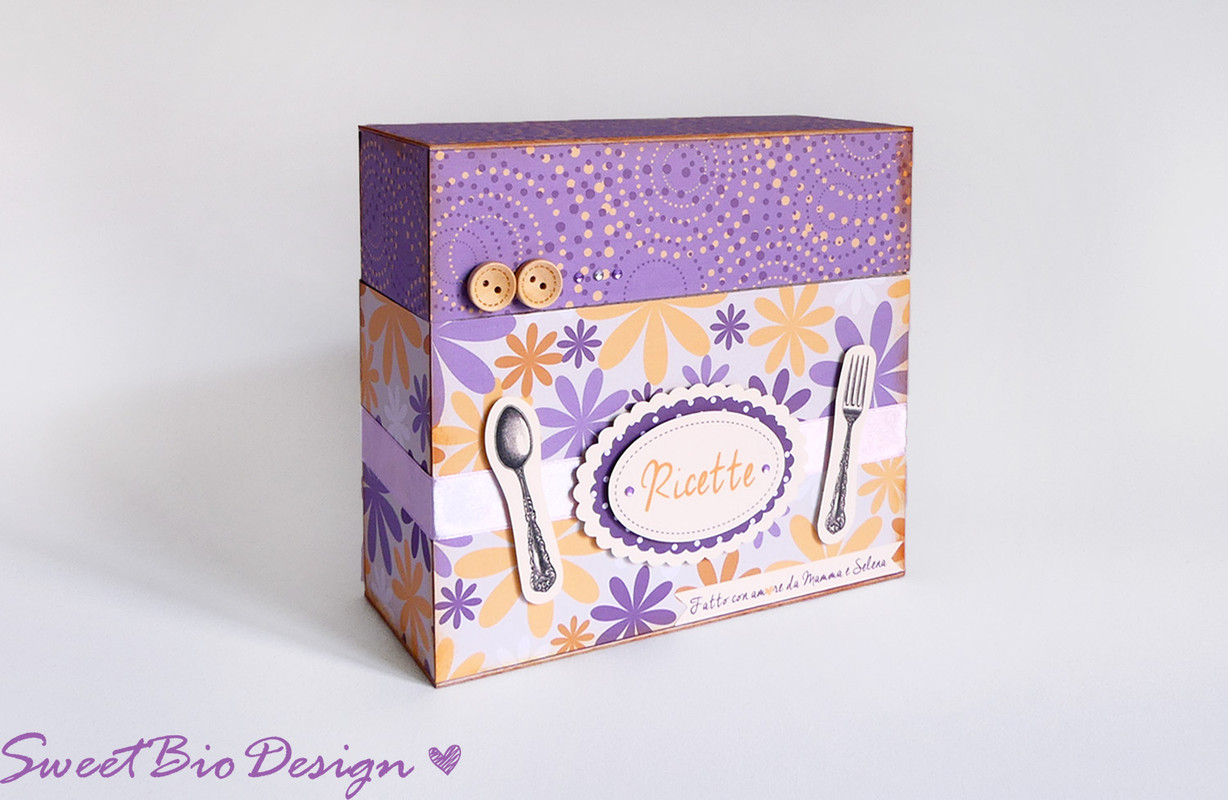 Lo schema di realizzazione è qua sotto, potete scaricare la scheda cliccando su download.
The construction scheme is below, you can download it by clicking Download.
Questo ricettario ha una dimensione finale di 16x18x7 cm e contiene 50 schede con 6 Divisori con i titolo: Aperitivi, Insalate, Primi, Secondi, Contorni, Dolci.
Cosa ho utilizzato:
– Cartone pressato http://amzn.to/2yxUSwE
– Colla a caldo http://amzn.to/2fZCPb6
– Colla vinilica http://amzn.to/2wDhGXf
– Cartoncino colorato http://amzn.to/2yw9OeT
– Bottoni di legno http://amzn.to/2g07c1l
– Nastro biadesivo http://amzn.to/2fZZDra
– Inchiostro a tampone marrone http://amzn.to/2fYq1ll
– Fustella ovale smerlato http://amzn.to/2yxV66Y
– Fustella ovale http://amzn.to/2wEBEkk
– Colla stick http://amzn.to/2wEPxz1
This recipe box has a final size of 16x18x7 cm and contains 50 cards and 6 dividers with title: Appetizers, Salads, First, Second, Side Dishes, Desserts.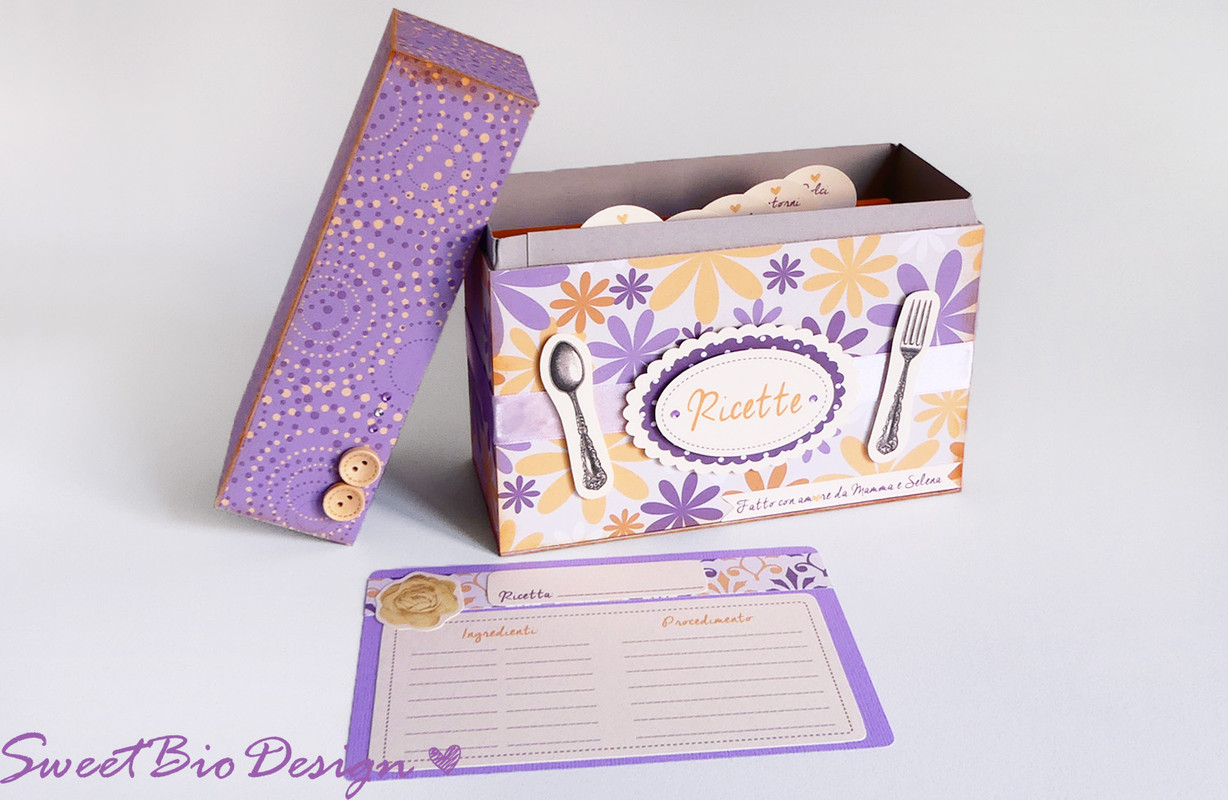 Per vedere l'intera realizzazione ecco il video tutorial:
To see the full realization here is the video tutorial:
La carta usata per decorare è un acquisto che ho fatto su Etsy, mentre le decorazioni sono scoperte fatte su Pinterest.
The paper used to decorate is a purchase I made on Etsy, while the decorations are discoveries made on Pinterest.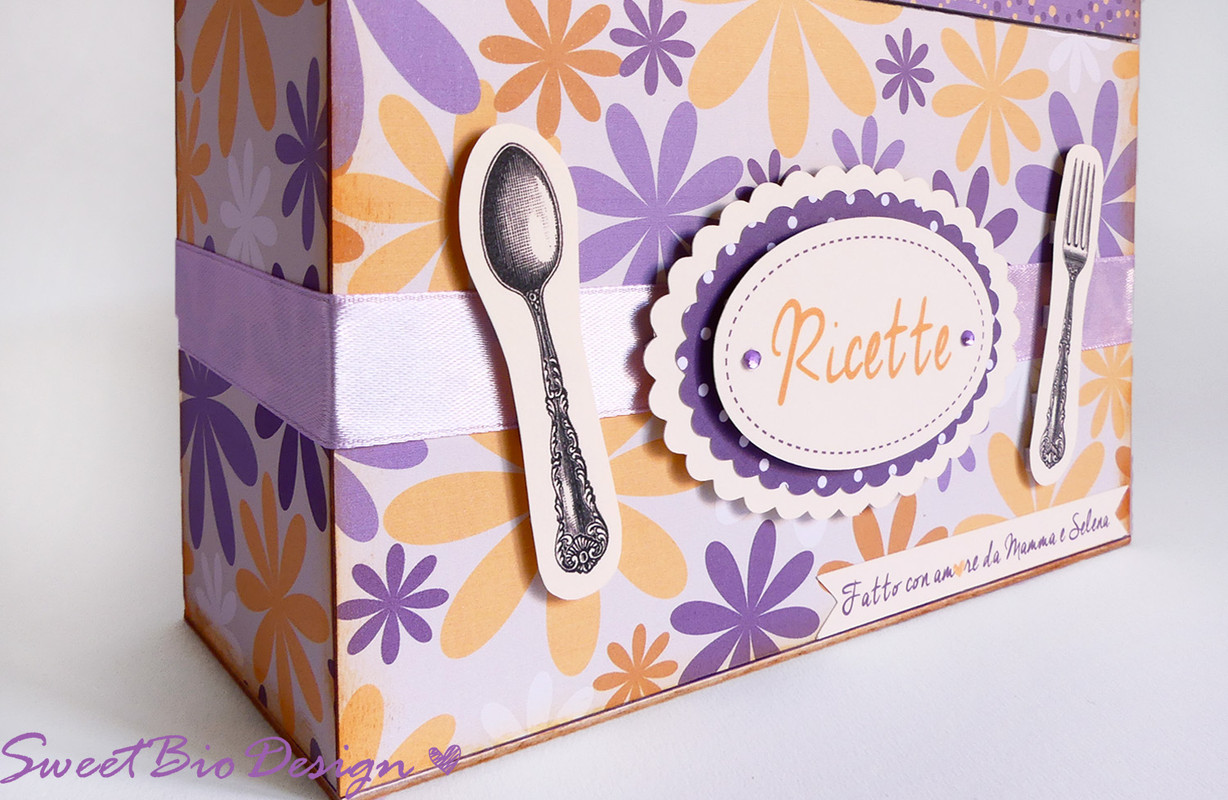 PER INFO: eleonora.galvagno@yahoo.it
Spero vi sia piaciuto!
Hope you liked it!
Hugs ♥