Ciao a tutti! Finalmente eccomi con la serie 2014 dedicata al matrimonio. In questo articolo vi parlo delle partecipazioni create per Marina l'anno scorso e che quest'anno sono state modificate per adattarsi alle esigenze della sposa che le ha richieste. Per tutti gli sposi inoltre, consiglio di visitare il sito LeMieNozze.it nel quale potrete trovare tutti i trends, le novità e i suggerimenti per organizzare dalla A alla Z le vostre nozze! Sul sito LeMieNozze trovate anche la pagina dedicata alle mie creazioni per il matrimonio.
Hello everyone! Finally here I am with the series 2014 dedicated to marriage. In this article I will speak of the investments created for Marina last year and this year have been modified to adapt to the needs of the bride who have requested them. For all spouses also, I recommend you visit LeMieNozze.it site where you can find all the trends, news and suggestions to organize from A to Z your wedding! On LeMieNozze website also dedicated to my creations for the wedding page.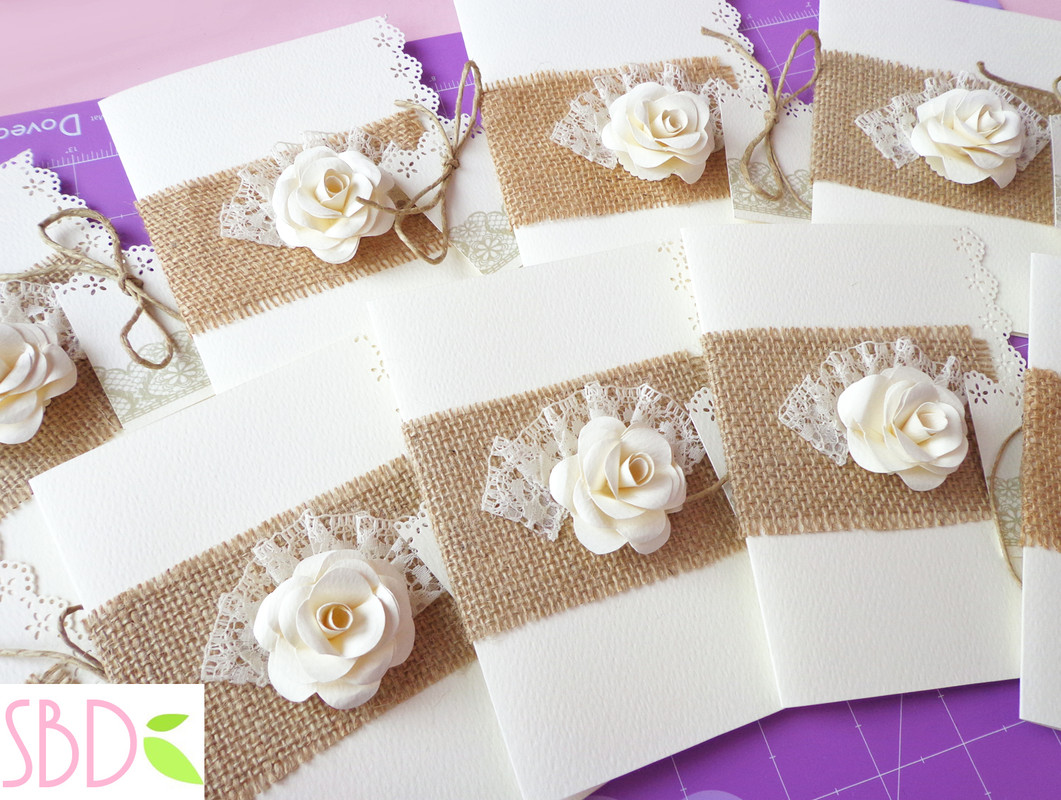 La richiesta è stata di realizzare delle partecipazioni in stile shabby, con chiusura in spago e fascia di juta. Il set comprendeva anche il bigliettino per il ricevimento, la targhetta esterna per il nome dell'ospite e le copertine per i libretti della Messa.
The request was to realize the investments in shabby style, with closing string and jute band. The set also included the note for the reception, the outer plate for the guest name and covers for books of the Mass.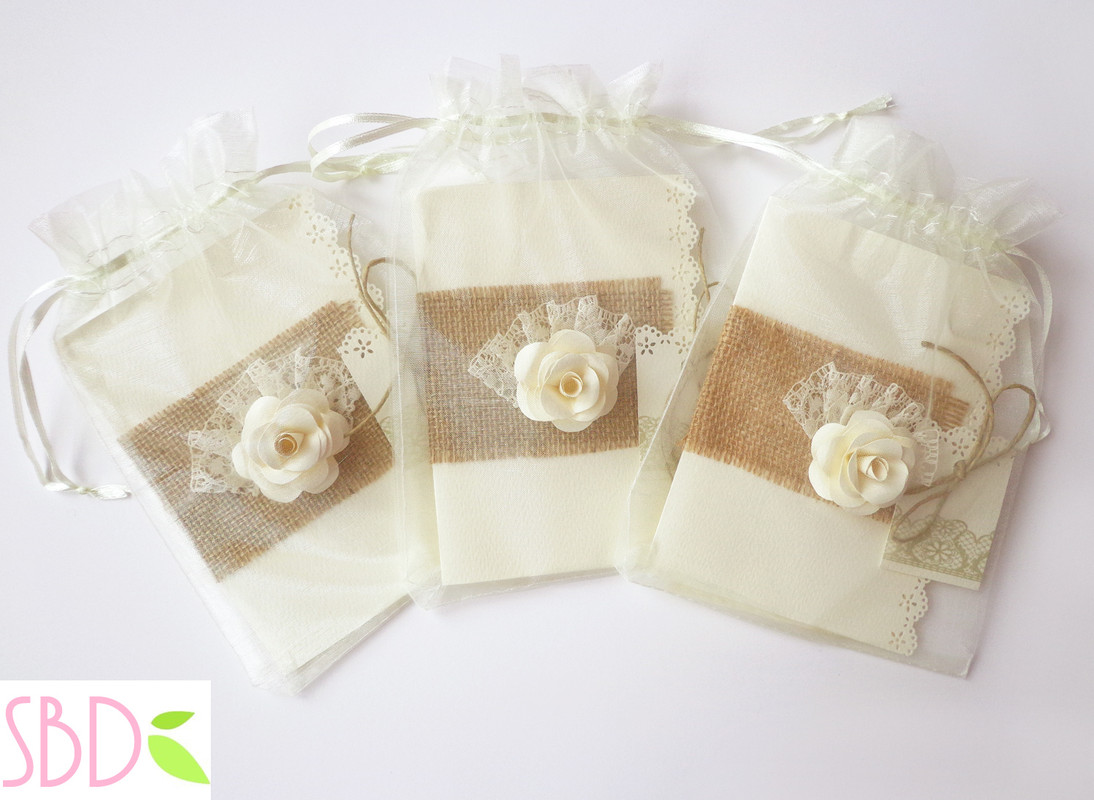 La realizzazione è avvenuta interamente a mano, con strumenti semplici e materiali naturali. La carta è di qualità, una pergamena ruvida per le partecipazioni e liscia per i libretti. Anche le roselline sono state create a mano una per una.
The realization was made entirely by hand using simple tools and natural materials. The paper is quality, a rough parchment for investments and smooth to the booklets. Even roses have been created by hand one by one.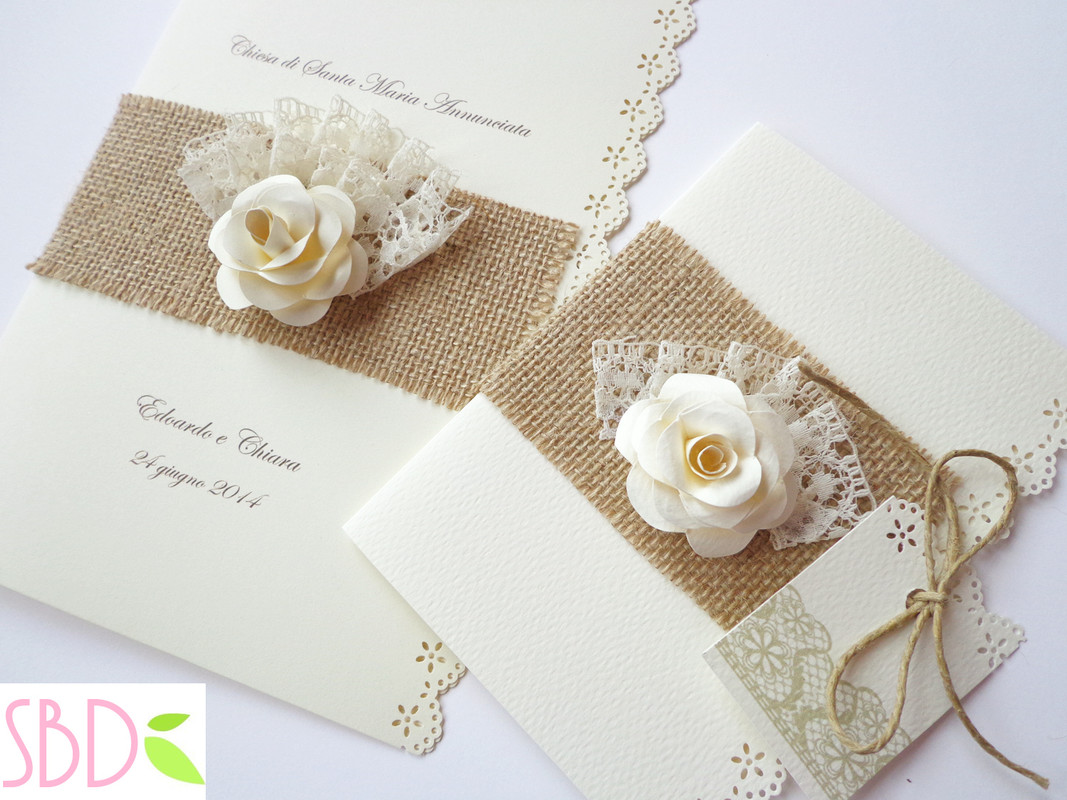 Se volete sapere come realizzare queste partecipazioni, ecco il video tutorial dove vi mostro passo a passo come fare:
If you want to know how to make these investments, here is the video tutorial where I show you step by step how to do:
Anche le copertine per i libretti della messa sono stati coordinati allo stile delle partecipazioni: un tocco di eleganza e minuzia anche durante la cerimonia.
Infine, per via della rosellina che crea spessore nella partecipazione, le partecipazioni non possono essere inserite all'interno di una busta. Ecco perchè queste partecipazioni sono state inserite all'interno di una busta in raso color avorio, che oltre a non rovinare la creazione, danno un tocco di romanticismo alla partecipazione.
Finally, because of rosellina that creates thickness in the participation, the investments can not be inserted inside an envelope. That's why these investments were placed inside an envelope satin ivory, which in addition to not ruin creation, add a touch of romance to participation.
Se vuoi altre idee per partecipazioni, ecco quelle in stile Marino-

Here is another idea for wedding invitations