Ciao a tutti! Siamo a fine Gennaio e tra poco più di due settimane sarà San Valentino e per noi creative un momento importante in cui fare qualcosa di carino, non solo ai fidanzati/e, con le nostre mani. Io ho realizzato dei cuori di stoffa, la tecnica che ho sviluppato li fa sembrare a prima vista come quelli realizzati cucendoli, ma in effetti non ho usato nemmeno 1cm di filo.
Hello everyone! We are at the end of January and in just over two weeks will be Valentine's Day and for us an important creative moment to do something nice, not only the engaged / and, with our own hands. I have made of cloth hearts, the technique that I have developed makes them seem at first glance like those made sewing them, but in fact I have not even used 1cm wire.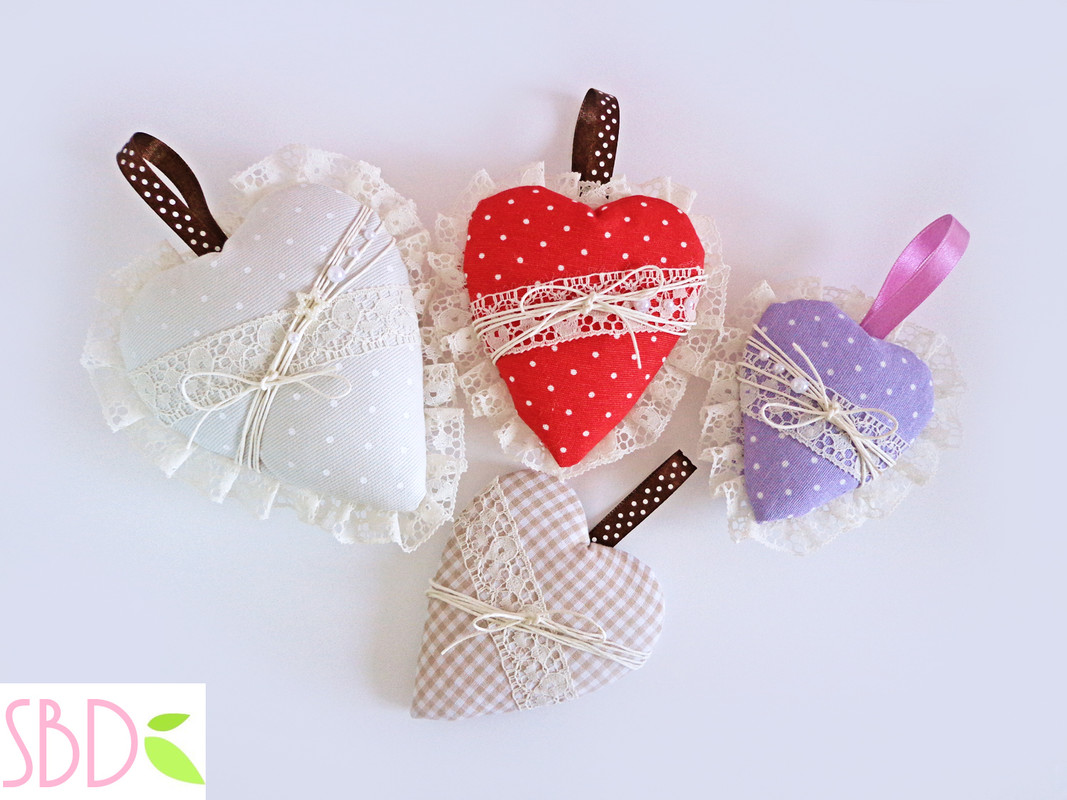 Per realizzarli vi occorreranno i seguenti materiali:
– Cartone pressato http://amzn.to/2kha8EJ
– Stoffa colorata (simile) http://amzn.to/2jF7B7L
– Ovatta o gomma piuma per l'imbottitura http://amzn.to/2jFnsTV
– Feltro per il retro (OPZIONALE) http://amzn.to/2C0fEnm
– Nastro in raso http://amzn.to/2kitdpZ
– Spago e pizzo se volete fare la decorazione http://amzn.to/2khzan2
– Colla a caldo http://amzn.to/2kh4X7D
To make them you will need the following materials:
– Chipboard 
– Colorful cloth
– Padding or foam for stuffing
– Felt for the back (OPTIONAL)
– Satin Ribbon
– Twine and lace if you want to make decoration
– Hot glue
SCARICA QUA SOTTO LE SAGOME – DOWNLOAD THE SHAPES HERE BELOW
I cuori di stoffa in questi ultimi mesi hanno spopolato, sono diventati un elemento d'arredo che con poco rende un ambiente più caldo e accogliente. La loro realizzazione è del tutto originale e accessibile a tutti, anche a coloro i quali non si destreggiano molto bene con il cucito, ma vogliono comunque realizzarli. Io li ho fatti utilizzando 3 sagome tra quelle che vi ho messo a disposizione, di 3 misure diverse.
Hearts of fabric are very popular, as pieces of furniture that warm and welcoming the atmosphere. Their realization is completely original and accessible to all, even to those who are not very well juggles with sewing, but they still want to achieve them. I made them using 3 silhouettes including those that I have put at the disposal of three different sizes.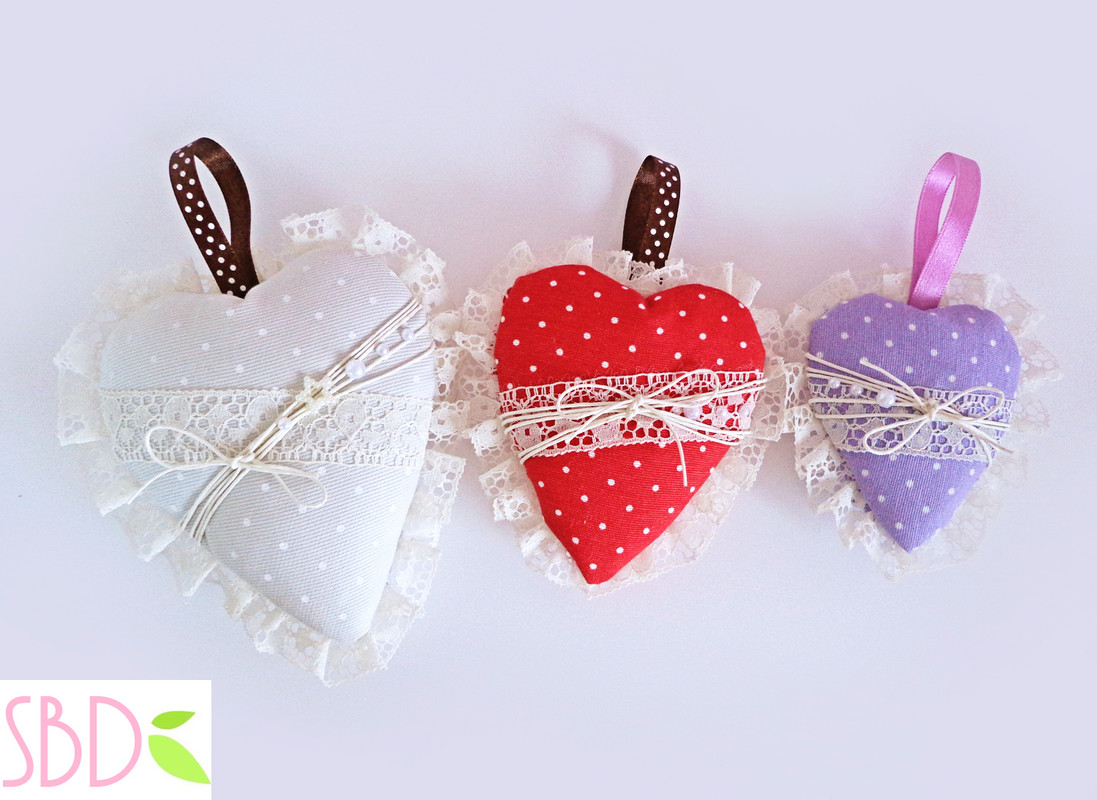 Ed ecco il video tutorial – Here is the video tutorial
I cuori sono realizzati in due parti che poi vengono chiuse come due gusci, per dare un effetto tridimensionale, ma se volete potrete realizzarli con la base piatta, in quel caso il retro verrà chiuso con una sagoma di feltro. Le varianti di colore sono come sempre infinite. Per San Valentino vi consiglio un classico rosso, magari con dei pois, ma la tendenza ultimamente è per i colori tenui, sull'avorio e sabbia, molto shabby.
The hearts are made in two parts that are then closed as two shells, to give a three-dimensional effect, but if you want you can achieve with the flat base, in that case the back side will be closed with a felt shape. The colors are as always endless. For Valentine's Day I recommend a classic red, perhaps with polka dots, but the trend lately is for pale colors, on ivory and sand, very shabby.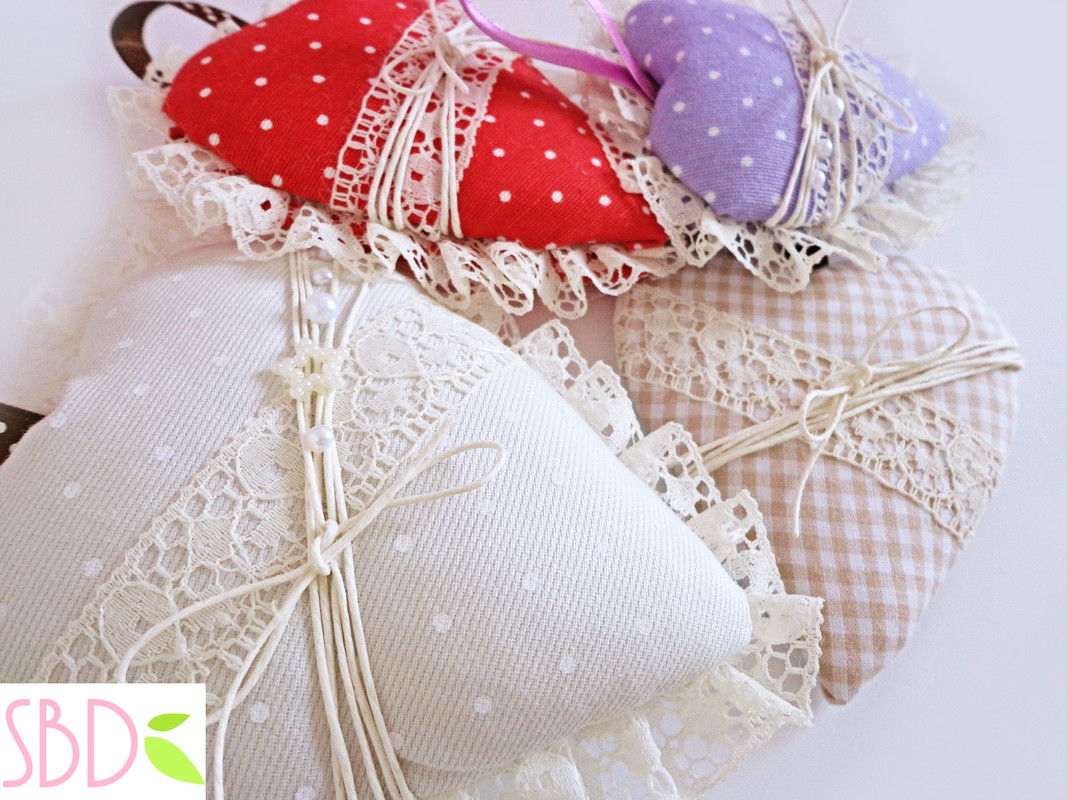 Una volta realizzati li potrete tenere dove volete: nell'armadio, nei cassetti, nelle maniglie delle porte, appesi come dei quadri magari di misure diverse; provate e vedrete come l'ambiente diventerà più accogliente.
Once created you can take them wherever you want: in the closet, in drawers, door handles, hanging like pictures even of different sizes; try it and see how the environment will become more welcoming.